May 11, 2021
By Scott Sinnett, US Sales Manager
We have heard our customers' demands and we have responded. We are excited to announce that flexi-binding capabilities will soon be coming to Friesens!
Friesens has made another capital investment of a new Kolbus Casemaker DA 270. This machine has all the bells and whistles and includes every option possible that Kolbus provides.
What is Flexi-Binding?
In addition to increasing our standard hardcover capacity, this new casemaker allows us to create flexi-bound covers. A flex-bound binding is a flexible cover that is thicker than a typical paperback and extends beyond the page edges. It is an intermediate style between the traditional paperback and hardcover styles. Our version of flexi-binding is produced by wrapping a cover material (woven, non-woven or printed sheets) over thin 28 pt (1mm) board. The diagram shows the components of a hardcover and flexi-bound book. The only difference between them is the thickness of the board, which for flexi-binding results in a more flexible finished cover.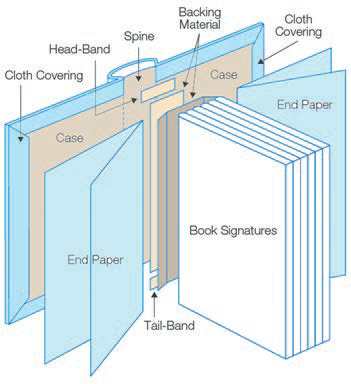 Round-cornered Covers
This new machine can also make round-cornered covers (hardcover or flexi-bound) by cutting the cover material in line for applying it to the round-cornered board. We will be able to make flexi-bound covers with or without rounded corners.
The casemaker has arrived, and we are currently doing installation and training. We expect to have it up and running in April or May. We look forward to helping you on your next flexi-bound or round-cornered project!
If you want to receive up-to-date information on when this bind style is ready, we encourage you to subscribe to our HTML newsletter on our website www.friesens.com/books.