March 10, 2018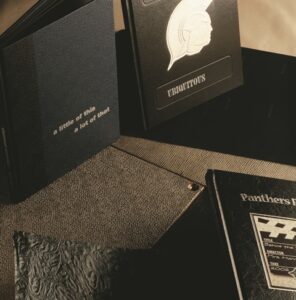 Foil Stamping Dies 
These dies are most commonly made of magnesium or copper. Magnesium dies are less expensive and can be used for most cover or jacket designs. Copper dies are considerably more costly and are required when the design has fine lines or is more intricate. On rare occasions a brass die is needed, but that is generally only for embossing. Our planning and bindery staff work in concert to review and approve which die should be ordered for each project.
Foil Material 
The use of metallic foils is more common than pigment foils. Metallic foils come in a variety of colours and finishes. Foil is composed of several layers, and it is the metallic layer which allows this foil to achieve better coverage, and/or create a more consistent finish than does the pigment foil. Pigment foils come in a wide range of colours, and it is this variety that prompts designers to select this product. It is important to remember that pigment foils are not as opaque as are metallic foils. This can cause the final colour or finish of pigment foil to not match the original swatch colour because the colour of the cover material is not being completely blocked out or covered. The other concern with pigment foils is that they are best used on smooth cover materials, because they do a poor job of covering up or filling the valleys that exist on premium cloth materials.
Amount of Coverage 
All foils have a release-coat layer. There is no one foil that can be used for all applications, as a design with minimal coverage or thin lines will require a different release than a cover which has large solid areas of coverage. At Friesens, we work closely with our suppliers of foil to ensure that we are using the correct foil for the amount of coverage needed.
Cover Materials 
Materials which are smooth are the best choices and result in the best finish. Real cloth cover materials, which have a heavily textured finish, can pose challenges. A smooth, consistent finish on this material relies on the foil being able to fill the peaks and valleys of this material. Metallic foils do a better job than pigment foils, but the finish is not always perfect. Metallic foils also have the benefit of being reflective, and this trait can also make small imperfections less apparent.
Softcover materials also stamp well. That being said, the softness can pose a different set of challenges. The softness can make the foil spread as there is not the same hard contact which is needed for the foil to separate cleanly between the areas where it is required and the areas where it is not wanted.
Open lines of communication and evaluating how the combinations of the design, foil selection, and cover material is a key factor in getting the result you are hoping for. Our sales representatives and marketing department have a variety of previously produced work that exhibit how certain combinations of materials and designs have worked in the past. We would also invite you to send foil files early in the process to be evaluated by our cover decorating staff. This process can be coordinated with your CSR. Collaboration and communication between our customers, customer service staff, production staff, and vendors will help produce a project that meets or exceeds your expectations.